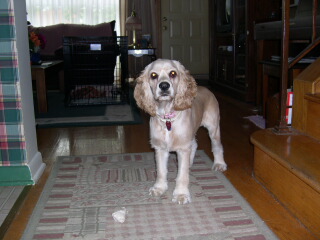 Chloe Croteau
---
Des Plaines, IL. August, 2005.
Item: New member of the family! On July 30th, we adopted 10 month old Chloe. Yes, another Cocker Spaniel. Seems like I keep on running into them.
Item: The Jean Baptiste Croteau family reunion is almost here. September 4th is not that far away. (Click here for reunion info.) There is not a lot of time left to learn your parts... I've put some learning files on this site.
Item: Florida in July: The Bi-Annual Hurricane Chase. This time, we skirted the storm. The rains were heavier, but the winds were lighter. Sorry, no pics from the storm - too busy concentrating on trying to see the traffic in front of us - but the rest of it was great. More info
Item: An evolving section on Prayers of the Church.
Item: For help with learning the music for the reunion chorus, again I say, check into my music page often.
Item: I'm still job hunting, so your prayers are appreciated.
More info from some prior versions of this page... Basement, kitchen, patio, etc...
My areas of general interest are:

...Send me a note...
---